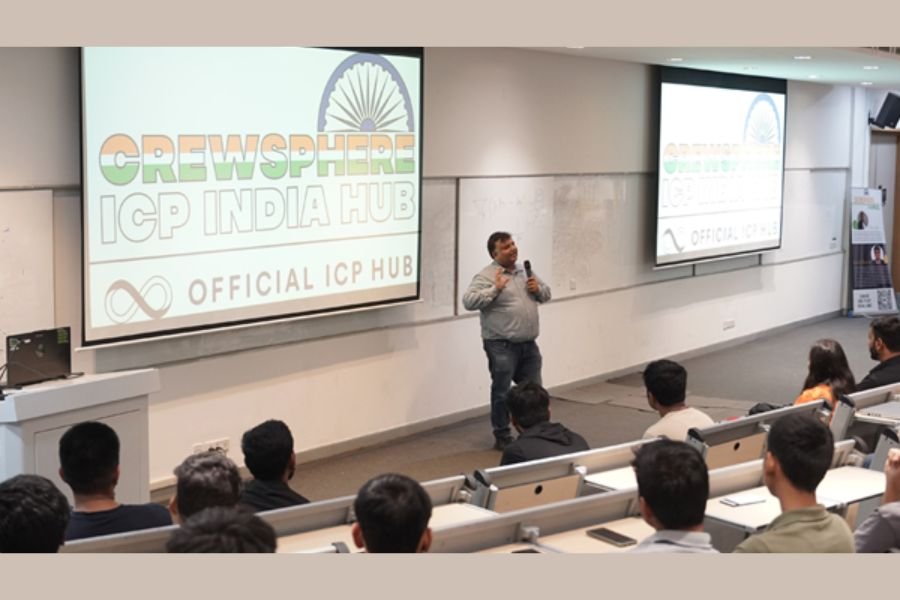 ​Deepak Goyal introducing ICP to Bennett University students
New Delhi (India), September 22: In a dynamic era of global crypto adoption, India has spectacularly risen to the forefront. According to the recent 2023 Global Crypto Adoption Index by Chainalysis, India, alongside Nigeria and Vietnam, is proudly holding the reins, demonstrating the robust participation of lower middle-income nations in the crypto movement. This monumental growth isn't just confined to numbers or transaction volumes; it's about everyday individuals, the heart and soul of India, wholeheartedly integrating cryptocurrency into their lives.
Crewsphere, the official hub of the Internet Computer Protocol (ICP) in India, is perfectly positioned to fuel and further amplify this growth. The company proudly lifts the curtain on its trailblazing "Sankalp" Web3 Roadshow. But this isn't just a tour—it's a nationwide movement. Beyond the massive $100,000 hackathon & ideation designed exclusively for engineering prodigies, Crewsphere is heralding an era of hands-on ICP education, world-class mentorship, and groundbreaking funding opportunities for standout projects.
Unveiling the Sankalp Sensation:
A Month of Mastery: Embarking on a 31-day journey, connecting with 30+ academic strongholds.
Ideate & Innovate: Students can shine and share the monumental $100,000 prize stash.
ICP Development Bootcamps: Grooming tomorrow's tech leaders with hands-on ICP development drills.
Guidance from the Best: Elite Crewsphere experts are all set to sculpt students' innovative instincts.
Turning Visions to Ventures: Exceptional projects stand a chance to be propelled from ideation to implementation with generous funding.
Crewsphere's grand vision behind "Sankalp" is clear: democratise cutting-edge Web3 education, mentorship, and opportunities, making them accessible to all students across India.
Bandhul Bansal, co-founder of Crewsphere, states, "The ICP blockchain offers unparalleled advantages in scalability, security, and speed. For budding developers, mastering ICP not only widens their horizons but also gives them a strategic edge in the ever-evolving tech landscape. Through the 'Sankalp' tour, we're bridging the gap between aspiration and realisation."
The Chainalysis report echoes India's accelerating momentum in the crypto domain, highlighting Central and South Asia's emerging dominance in grassroots cryptocurrency adoption. Crewsphere, with its steadfast initiatives, embodies this momentum, aiming to catalyze and sustain India's leadership position.
"Developing on ICP is a game-changer. It's our mission to equip India's brightest minds with the tools and knowledge they need. Our Hackathon is more than just a competition; it's an incubator for India's next generation of Web3 innovators." shares Deepak Goyal, co-founder of Crewsphere.
At a time when global grassroots crypto adoption witnessed a dip following the 2022 FTX collapse, countries classified as lower-middle-income by the World Bank are registering an encouraging resurgence. India's trajectory in this respect is undeniably resilient and poised for further growth.
With Crewsphere's unyielding commitment, the synergy of educational roadshows like 'Sankalp' and dynamic platforms like the ICP Hackathon, India is not just participating in the crypto revolution; it's leading it.
In this spirited drive towards blockchain education, Crewsphere has also formed a strategic collaboration with OKX, leveraging their cutting-edge wallet technology. This partnership ensures that students aren't only gaining theoretical knowledge but also receiving hands-on experience. By using OKX's wallet, students are seamlessly onboarded to the dynamic world of Web3, truly underlining Crewsphere's commitment to practical education in the blockchain domain.
About Crewsphere:
Crewsphere: ICP India Hub is a frontrunner in championing Web3 and Blockchain technologies in India. With a vision to educate, innovate, and cultivate a thriving community of developers and enthusiasts, the company has been pivotal in shaping India's narrative in the global crypto space.
If you have any objection to this press release content, kindly contact pr.error.rectification[at]gmail.com to notify us. We will respond and rectify the situation in the next 24 hours.