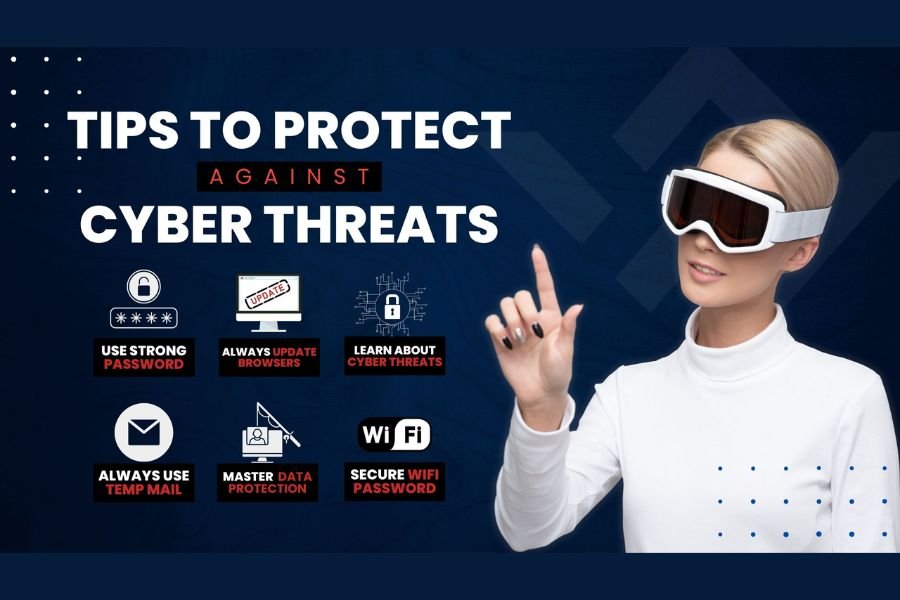 New Delhi (India), October 9: In our modern, digitally connected world, where technology is an integral part of our lives, it's crucial to protect your digital presence from potential cyber threats. Unfortunately, there are individuals with malicious intentions who are always looking for opportunities to exploit.
To assist you in strengthening your online security, we'd like to share ten essential tips that can safeguard you from digital threats. Additionally, we'll introduce you to a useful tool called Temp Mail, which can help enhance your online security.
Strengthen Your Passwords
Ditch the predictable choices like birthdates and pet names. Instead, opt for complex and unique passwords that combine letters, numbers, and special characters. For example, trade in "password123" for something more secure like "L3t$BeS3cure!" – it's not only harder to crack but also adds a touch of creativity.
Enable Two-Factor Authentication (2FA)
This clever security measure requires a second form of verification, such as a unique code sent to your mobile device. Even if someone manages to get hold of your password, they won't be able to access your accounts without this additional step.
Stay Ahead with Software Updates
Don't underestimate the importance of keeping your software up to date. Regularly update your operating system, applications, and antivirus software. These updates often include crucial security patches that address known vulnerabilities. By neglecting to update, you're leaving your devices vulnerable to cybercriminals. Letting your devices automatically install updates whenever possible saves you the hassle and ensures you're always protected.
Outsmart Phishing Attacks
Phishing attacks are a sneaky ploy often used by hackers to dupe users into revealing sensitive information. Stay vigilant and be wary of unsolicited emails, messages, or pop-ups that ask for personal or financial details. Always take a moment to verify the sender's identity and refrain from clicking on suspicious links. When in doubt, go directly to the organization's official website or contact them using verified contact information.
Fortify Your Wi-Fi Fortress
Your Wi-Fi network can be an open door to hackers if not properly secured. Amp up your security game by changing the default password on your router, utilizing WPA2 or WPA3 encryption, and hiding your network's name (SSID). Additionally, exercise caution when connecting to public Wi-Fi networks, as they may be compromised. To safeguard your connection and protect sensitive information, consider using a virtual private network (VPN) for a secure and encrypted connection on public networks.
Master the Art of Data Protection
Shield yourself against the unthinkable, such as ransomware attacks or hardware meltdowns, by regularly backing up your files. Make multiple copies and spread them out across external hard drives, reliable cloud storage services, or offline storage devices. And don't forget to put your backups to the test every now and then to ensure they're rock-solid and ready to rescue your data if needed!
Play it Smart on Social Media
When it comes to sharing personal information on social media, a little caution can go a long way. Avoid broadcasting sensitive details such as your full address, phone number, or upcoming getaways—keep cybercriminals guessing and your physical safety intact. After all, safeguarding your online presence is just as important as posting the latest cat memes or travel selfies.
Never Stop Learning about Cyber Threats
Stay one step ahead of cybercriminals by staying informed about their ever-evolving tactics. Make it a habit to absorb reliable cybersecurity news from trustworthy sources. By increasing your awareness and knowledge, you'll be better equipped to spot potential threats and take the necessary precautions to protect yourself and your digital life.
Use Temporary Email Services
Keep prying eyes at bay and your primary email account out of harm's way with the help of temporary email services. These nifty tools, also known as disposable email addresses, come to the rescue when you need to sign up for online services or websites that you aren't fully confident about. Services like "Temp Mail" or "Guerrilla Mail" let you create a temporary email address to shield your identity from spam, phishing attempts, or data breaches. It's like slipping on a virtual disguise to keep your digital presence incognito and secure.
Trust Your Instincts and Stay on High Alert
If something feels off or suspicious, don't dismiss that nagging feeling. Keep your eyes peeled for any warning signs, whether it's an unexpected email attachment or a dubious website. By staying alert and listening to your instincts, you'll be better equipped to navigate the digital world with confidence and ensure your online safety.
So go forth, armed with these savvy cybersecurity tips, and embrace the digital realm with peace of mind and a touch of adventure. Your digital life is valuable—guard it, explore it, and revel in its wonders!
If you have any objection to this press release content, kindly contact pr.error.rectification[at]gmail.com to notify us. We will respond and rectify the situation in the next 24 hours.