Nagaraj B. holds the record for delivering the longest financial lecture
New Delhi (India), November 1: Nagaraj B., a Coimbatore-based financial educator and trader, was recently featured in the Indian Book of Records for his outstanding achievement in accomplishing the longest financial lecture in India, that encompassed a broad spectrum of subjects – from capital markets and stock trading to mutual funds.
On September 30, 2023, starting from 10 a.m., he delivered the 24-hour financial lecture at Thendral Mahal in Podanur, Coimbatore, Tamil Nadu, where nearly 900 students, who were present at the venue, actively participated in the session and an additional 2,000 viewers joined the session through the YouTube live stream to gain knowledge from his experiences. The event showcased Nagaraj's commitment to promoting financial literacy, equipping people with the skills and knowledge needed to perform in the current capital markets. 
Nagaraj B. has witnessed a remarkable transformation in his professional and personal growth. From being a network engineer to a financial expert, he has come a long way driven by his deep passion for finance. Despite achieving success in the realm of technology, his keen interest in finance prompted him to venture into stock market investments 15 years ago, marking the inception of his journey as a financial luminary. Focusing on the global economy, he began to explore the complexities of the market and expand his interests beyond conventional boundaries. With these interests, he started studying capital market concepts, mathematics, and economics that underpin the market dynamics. Combining these, he developed a profound expertise enriched by his hands-on experience as a trader.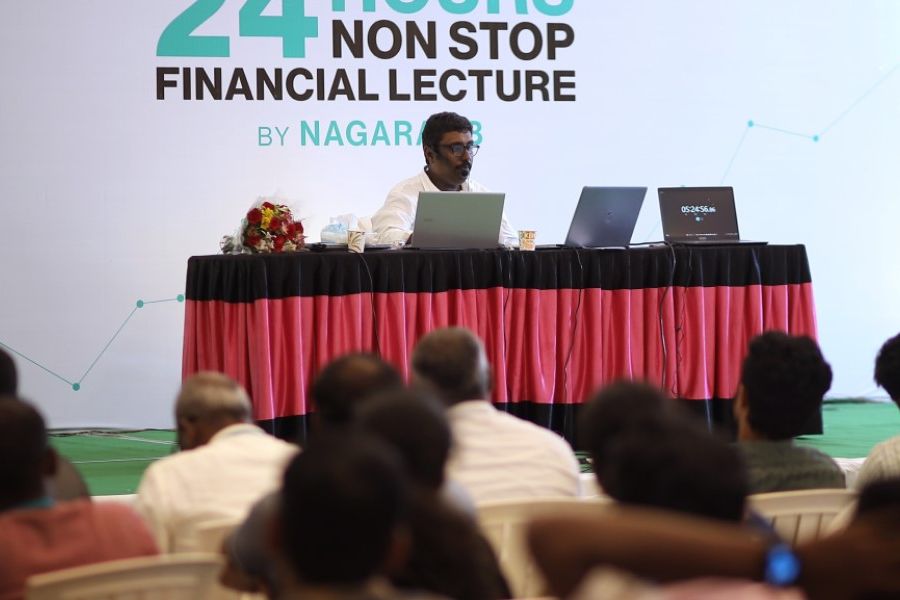 Finally, in 2009, Nagaraj made a pivotal choice: to transform his role from a network engineer to a dedicated career in the financial markets. Engaging fully in the economic arena, he worked as a sub-agent for reputable firms like Kotak Securities and Reliance Money. However, his true passion lay in imparting knowledge about the stock market to others.
With this dedication, Nagaraj embarked on guiding students about stock market investing, which brought him several recognitions. Currently, he holds the position of Academic Head at Entri App, a leading online education platform for finance and investment, where he provides guidance to more than 5000 students. These efforts not only sharpened his skills but also empowered countless individuals to grasp the complexities of the stock market.
Furthermore, following his recent achievements, Nagaraj also received several other notable recognitions in his career. He holds a national record in the Limca Book of Records for continuously writing for 120 straight hours against child labor from February 21 to February 25, 2006, highlighting his level of concern for the cause and raising awareness about this burning issue. Additionally, he was praised for establishing the world's largest network at the time for an uninterrupted 172 hours.
Nagaraj B. serves as an inspiration to aspiring students and individuals for a multitude of reasons. His profound grasp of capital markets and stock investments not only underscores his expertise but also highlights his exceptional communication skills, which are vital in today's ever-evolving market. Considering his achievements till date, Nagaraj not only embodies the core principles of hard work but also stands as a guiding light for young individuals who harbour a belief in the importance of investing and financial proficiency. Nagaraj's journey stands as a testament to relentless determination, continuous learning, and a true passion that is capable of sparking a similar journey in the hearts of others.
For more information, please visit: https://www.youtube.com/c/StockMasterNagaraj,
https://www.linkedin.com/in/stockmasternagaraj/
If you have any objection to this press release content, kindly contact pr.error.rectification[at]gmail.com to notify us. We will respond and rectify the situation in the next 24 hours.