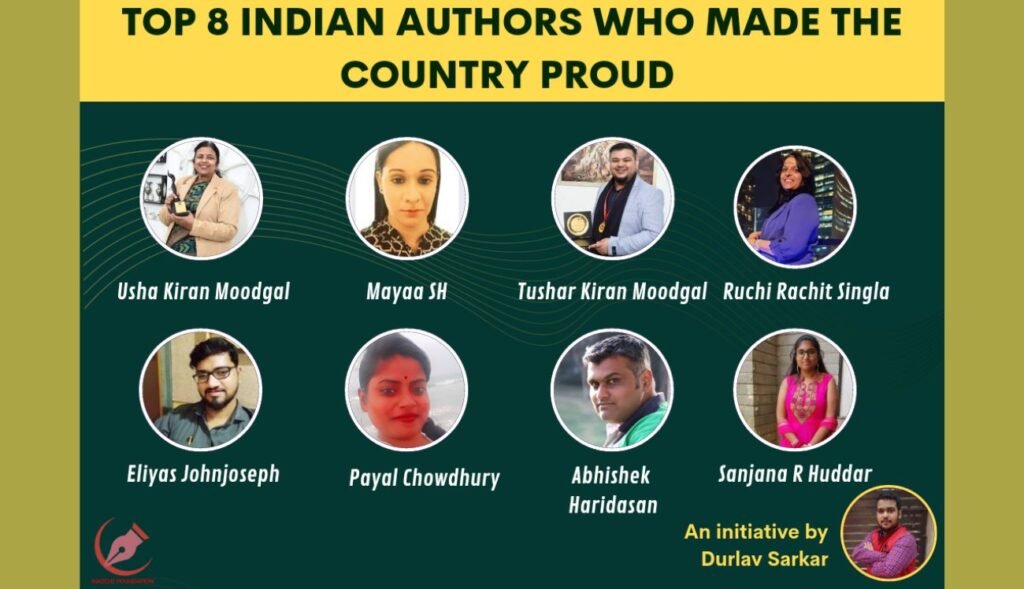 New Delhi (India), September 30: The top 8 Indian Authors Who made the country proud are Usha Kiran Moodgal, Mayaa SH, Tushar Kiran Moodgal, Ruchi Rachit Singla, Eliyas Johnjoseph, Payal Chowdhury, Abhishek Haridasan, Sanjana R Huddar along with this team INKZOID FOUNDATION and the founder, Durlav Sarkar appreciates their hardwork, dedication and creativity for their amazing contribution in the field of literature making their country proud.
• Usha Kiran Moodgal
Usha Kiran Moodgal originating from Delhi, is a distinguished Hindi poetess, researcher, and dancer, earning acclaim on both national and international fronts. She is the International Ambassador at Dawn Research and Development Council.
Her poetry compilation "Kavya Tulika" has gained extensive recognition and numerous accolades, complementing her participation in various collaborative anthologies. Academic diligence earned her post-graduate degrees in Hindi and History after her undergraduate pursuits. In 1987, she embarked on her marital journey with Ashok Moodgal.
A life enriched by literature and dance, Moodgal recieved the "Bharat Shree National Award" and the "Honorary Gold Medal Award by DRDC Global" for her unswerving literary contributions. Notably, her book "Kavya Tulika" secured the "Sahitya Sthambh Puraskar 2023" and "Sahika India International Award" for "Best Poetry Book of the Year."
Usha Kiran made multiple world records with her poem "शक्ति" ("Shakti" meaning power) and made it to the Inkzoid and Glorious book of records. Acknowledgments encompass the "Maharshi Valmiki Bharatiya Gaurav Samman 2023," "Tagore Ratna Samman," "Nazrul Sahitya Samman Laureate Award," and the "Ishwar Chand Vidya Sagar Iconic Achievers Award." Her poetry, including "निर्णय" and "ख़ामोशी," published in collaborative editions, garners acclaim. International laurels include the "Asian Excellence Award 2023," Jane Austen Platinum Book Award, and the "MBR Global Excellence Award."
Moodgal shares her creations on Instagram, @ushakirankavyanjali. Her works feature in newspapers, digital and media platforms, even gracing covers of magazines like Lidue and the Eagle Eye.
• Mayaa SH
Mayaa SH also known as Mayaa Devi, Mayaa Tai, Mayaa Di, Mayaa Audio SH, Pushpa 'The Fire' , Padma Of The East, Lady Robin Hood, MS Dhoni Of Writing , Female Chulbul Pandey and Lady Gandhi is a known name in Contemporary Literature .She is a Multi-National and State Award Winner, a ten times a World Record Holder, An Artist, a Podcaster, a Record Chart Topping International Fastest Anthology Co-Authoress and has been chosen as number 1 The Modern Literary Stars Of India, 2022 by Cherry Book Awards for making valuable contribution to Contemporary Indian Literature. Mayaa SH is as an Indian authoress, writer ,thinker, essayist, and a women empowerment culturist who has had a deep influence on the ideological theories and practices of the women's ideology of self belief and motivation in life .She has turned her attention to allow women to think through their lives and the impact on domestic life, personal grief, and trauma. Most of her books have highlighted on the importance of self belief of people and how women specifically are shaped by their education and the power of their strong value system in life. Her contemporary prose work has highlighted onto break so many stereotypes about women and their power of self belief. Mayaa SH's literary contributions have touched upon many issues and daily challenges of women. Although women are increasingly penetrating important political institutions and challenging existing understandings of gender roles, the path to gender equality in the world will be long and arduous. She has Won In Memorable Performance in the category termed as 'Other than English write ups " for her appreciation of hard work , creativity and dedication in Grand Christmas Competition 2.0 which has been a world record event of the largest creative event hosted online with more than 1000+participants. Mayaa SH a gender equality exponent to position and contextualize her work within the 2030 Agenda for Sustainable Development. She has depicted gender inclusivity and equality through her certifications from the United Nations and powerful writings on Feminism, Gender Equality, Transforming Vision Into Action: Transmogrification on Transgender Community and Mental Health Awareness Topics. Her work depicts the identity, economic and social freedom of many .She has co-authored more than hundred and fifty plus anthologies with nine solo books and has been aligned with more than 85 publication houses. She has been featured in several magazines and women oriented like Tejaswi – The Imperishable on Women Power and Honor including few international magazines. Her first poem "The Candle In The Wind" made her win an Award at the National Level. She navigates many women through stress by deploying talking as a medium to combat stress and fear. She is an expert in suicide prevention and women motivation.
• Tushar Kiran Moodgal
Tushar Kiran Moodgal, hailing from Shahdara, is a poet of national acclaim, recognized for his distinctive form of philosophical verse. His poetry seamlessly weaves together elements of romanticism, gothic themes, philosophical introspection, and an unfiltered, sincere approach.
He has collaborated on 25 collections of poetry and his first compilation, 'Lamentations,' secured the esteemed "William Shakespeare Golden Book And Laureate Award." A multitude of honors has been bestowed upon him, including titles such as "Bharat Shree," "Bharat Vibhushan," "Tagore Ratna Samman," "Nazrul Sahitya Samman," and "Dr. APJ Abdul Kalam Award." Furthermore, he holds several global records for his poem "Rhapsody Of Twilight," acknowledged by both the Inkzoid Book of Records and the Glorious Book of Records. On the international stage, he was granted the "Asian Excellence Award 2023" in Singapore, along with the Jane Austen Platinum Book Award and the "MBR Global Excellence Award," all recognizing his contributions to contemporary poetry and literature.
His literary works have found their way into newspapers and digital platforms. He shares his poetic musings on Instagram and can be reached at @tusharkiranmoodgalpoetry.
• Ruchi Rachit Singla
Ruchi Rachit Singla (Born : 13th October 1987) who hails from Hisar, Haryana, India is the author of the book "Umeed" and the proud daughter of Smt Renu Goyal and Sh Ram Swaroop Goyal, she recently received Bharat Ratan Atal Samman Award and many more laurels in the field of literature including multiple world record felicitated by INKZOID FOUNDATION.
She completed her schooling from K L Arya, public school, Hisar, NYPS,Hisar (senior secondary School), Bachelors from G V M College of pharamacy, Sonipat (Haryana) and Masters in Pharmacy from Hindu College of Pharmacy, Haryana. Currently, she is staying in Mumbai, Maharashtra married to Rachit Singla and also has a son, Gatik Singla
She is a scientist by profession who is currently working as a Research Scientist for a leading pharmaceutical company with more than a decade of experience. A keen interest in research led her to choose R&D as her profession.
Her achievements include being a multiple world record holder and Bharat Ratan Atal Samman Awardee. Compiling twelve anthologies so far (Jindagi ek paheli, Season of colours, Bachpan, Umeed, Sweet memories, Udane do mujhe, Way to happiness, khamosiyan, Guru, Raksha Bandhan, special message to father and Wings of motivation).
Her poetry focuses on unsaid, heartfelt words which connect her with her readers. She is also co-author of a poetry book – "Baatein Kuch Unkhai si".
Her message to society is to believe in working hard and focus on what you want to do in your life. A journey to achieve a goal cannot be easy as it is full of ups and downs.
If you are persistent towards your goal without getting distracted by problems or situations, you will definitely achieve your goal.
Also, spend some time on your hobby because that will make you happy and give you inner peace and relaxation.
You can explore her write-up and quotes on Instagram @ ruchi_singla_7.
• Eliyas Johnjoseph
Author Eliyas Johnjoseph is an Author & Innovator, who lives in Tamil Nadu and is well known for his fictitious stories, the book "Already" which brings the discipline in sports activities and motivates all to develop their sports carrier and the book"Giant in the Ocean" takes you to ocean adventures and survival and interprets the lesson to kids to. adults and this story educates to reduce water pollution and waste disposals by humans in to the ocean and his prior book "Let it be" interprets the lesson for all new youngsters in riding/driving, and his second book "Eagles soar" depicts the passion and dreams to achieve the motives. The foremost book "Always" portrays the endless love story of a mother and son's relationship. Also been a part of many anthologies, as a co-author for 34 books and few journals. Also Author has been honored and recognized with following awards and features:
ACHIEVEMENTS OF ELIYAS JOHNJOSEPH
•World Record Holder for his book "Already" from INKZOID Book Of Records.
•Lift Award in 2023 ( #1 winner award)
•National Book of records in 2022
•Five self made influential Personalities of india and their journey to sucess.
•A laurate Award ( Nazrul Sahitya Samman Literature Award )in 2023
•Pride of India Honor Award in 2023
•Aspiring Indian writer Award in 2023 (Spectrum India)
•Best content writer of 2023 Award (Drop of change publications)
•Best Author of the year (Asian Education leadership Summit and Awards 2023)
•INKZOID BOOK Of Records in 2023.
•Hope International World Records In 2023.
•Best Of The Best 2023 Award by INKZOID FOUNDATION.
• Payal Chowdhury
Payal Chowdhury a Bengali girl from Belpahar,Odisha. Born to an elite family of education and culture she had a hobby of writing at the age of 10 and gradually it turned to passion. Professionally she is a teacher and passionately a writer. After completing her Masters degree in English and pursuing fashion designing course under the guidance of Anuradha Jha (designer at Decathlon,UK) she started her writing career since November, 2020. Initially she wrote quotes only later on she wrote poems,fictions,microtales and articles.She participated in 600+anthologies as a co-author,took part in podcasts.
Her work was recognised with various awards such as Aloha Award,Indian Noble Award,Rising Star Award (Multi-talent) award and has achieved Gold medal as well.Along with that she has been awarded with the title of "WRITER OF THE YEAR" AWARD.It was in 2021 she met Durlav Sarkar (founder of INKZOID FOUNDATION) and her career was uplifted. She was honored with the INKZOID BOOK OF WORLD RECORD, GLORIOUS BOOK OF RECORD, ICONIC PERSONALITY AWARD,UNIQUE PERSONALITY OF 2022, INKZOID SHINING STAR AWARDS.
She was awarded with TPL SHIKSHA AWARDS FOR the category -MULTITALENTED WOMAN OF THE YEAR,at Dwarka New Delhi.
She has been featured in various news websites along with Google News featuring as "TOP 10 OUTSTANDING WOMEN OF THE GLOBE" , "TOP 10 OUTSTANDING PERSONALITIES OF THE GLOBE" etc.
• Abhishek Haridasan
Abhishek Haridasan is not your ordinary author; he is a marketing and social media professional who has found his creative outlet through writing. With over a decade of experience in his field, Abhishek is known for his ability to convey honest messages in a believable and captivating way. His writing reflects his values, emphasizing the importance of honesty and finding ways to merge content with life's precious moments. Abhishek enjoys engaging with individuals who share these values and are passionate about their craft, creating a space where creativity and authenticity thrive.
Abhishek's talent and dedication have not gone unnoticed. He has secured a place among the top 500 writers in the Hashtag Kalakar community, ranking an impressive 126th. His work has been recognized by esteemed organizations, including the Inkzoid Foundation, which awarded him the Best Author of the Year in 2023. Abhishek's contributions to the literary world have also been honored with the Indian Noble Award by Namya Magazine. Furthermore, he was awarded the prestigious Emily Dickinson Award in 2023 by BookLeaf Publishing House, cementing his position as a rising star in the writing community.
For Abhishek, writing is more than just a profession; it is a natural extension of his passion for marketing and technology. As a marketer, he understands words' power and ability to convey messages effectively. Writing allows him to creatively express his thoughts and experiences, uniquely combining technology and storytelling. Abhishek's ability to merge his professional expertise with his love for writing has shaped his career and given him a platform to make a lasting impact.
• Sanjana R Huddar
Sanjana R. Huddar is a very aspiring girl. She is from Bangalore, Karnataka. She is a voracious reader and an aspiring writer. Writing is not only her passion but also her first love. She is a co-author of many books. The name of her 1st book is For The Love Of You and it was published under Kashish Publication.
She was nominated for the Budding Spectrum Writer Award, 2021 by Spectrum India Awards. She was also nominated for The Leading Attainers Award 2021 by JEC Publication and was featured in Daily Hunt and The Weekly Mail newspaper. She was nominated for the Golden Arc Awards 2021 as a writer. She was also nominated for Bharatiya Youth Face Of India Award and was featured in ED Times, Maxtern Media, Fox Interviewer, Disrupt Magazine, Yold Daily, Zee5. She was also part of the Tridesta Magazine July Edition by OPUS. She was also featured in the article titled Top 12 Indian Writers Of 2021 by Presstone Agency in Newstack Live, Influencive, Google News, Fox Interviewer, Maxtern Media, Disrupt Magazine.
She hopes to continue writing and keep growing as a writer. Her dream is to be a really successful author one day and have best selling books.
About The Founder Durlav Sarkar
Durlav Sarkar is the founder of INKZOID FOUNDATION (the best publishing start-up and the fastest growing entrepreneurship) which helped people to publish book for free during covid situation, who is a celebrity entrepreneur, multiple world record holder (only triple hat-trick world record holder) and the youngest world record strategist of Asia being the youngest speaker at Safalta Talks and many other talkshow.
He is also a poet, motivational speaker, influencer and works as a social activist as well famous for his 55 lyrical sonnets and each one of it was written within 5 mins.Thirty three books were written on him as a tribute to him for all of his works and he was also awarded 'Best Start-up 2021' in support of West Bengal Government for his entrepreneurship being the Best Entrepreneur of 2021 setting an inspiration for the future generations.He also founded one NGO named 'Love All Serve All' which aims to serve mankind around the world and is the inspiration of many for his famous line "Haters are my biggest motivators" and "Hardwork, Dedication and Creativity these 3 words can change your life" .
About INKZOID FOUNDATION
The fastest growing publishing start-up is INKZOID FOUNDATION with ranking one for having more than 110 units within 10 months and it is the only publication with Express Free Publishing (No Hidden Charges) just within 3 hours,they featured the maximum number of people on Google in the last 8 months and also honours deserving talents for full free of cost which is first time ever in the history.
INKZOID FOUNDATION is an UASL(international) & ISO certified independent international publishing chain and community organisation along with mass production house founded by world record holder and celebrity author, Durlav Sarkar and it is a place of creative people such as a hub of open mic event organisers, dancers, musicians, artists, podcast artists and photographers by promoting them that is why it is another name for opportunity.
To Know More About INKZOID FOUNDATION Click On The Link Below
https://instagram.com/inkzoidfoundation?igshid=MzRlODBiNWFlZA==
If you have any objection to this press release content, kindly contact pr.error.rectification[at]gmail.com to notify us. We will respond and rectify the situation in the next 24 hours.