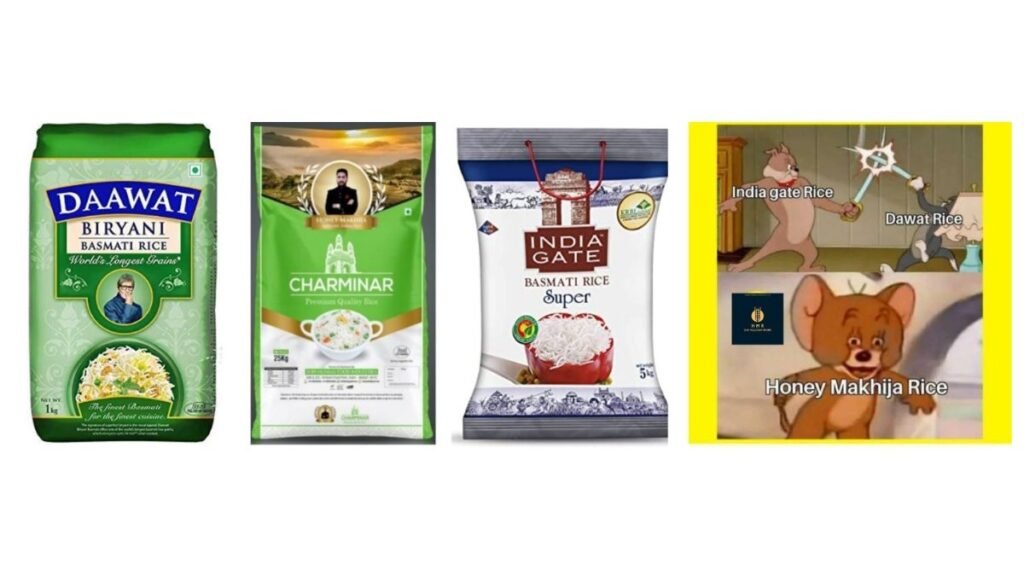 Dawat, India Gate, and Honey Makhija: A Triumphant Tale of Three Rice Dynasties
New Delhi (India), October 3: Rice, an integral part of Indian cuisine, holds a special place in the hearts and palates of millions across the nation. In this nationwide comparison of rice brands, we take a closer look at three notable names: Dawat, India Gate, and Honey Makhija Rice. While all three brands have made their mark in the rice industry
Dawat Rice: A Time-Honoured Classic
Dawat Rice, produced by LT Foods Limited, has long been a household name in India. Known for its exceptional quality, Dawat Basmati rice has graced the tables of families and restaurants for decades. The brand offers a variety of Basmati rice variants, each celebrated for its long grains, enticing aroma, and delightful taste. Dawat rice is renowned for its role in traditional Indian dishes, biryanis, and pilafs.
India Gate Rice: A Heritage of Trust
India Gate, produced by KRBL Limited, is another illustrious brand in the Indian rice market. With a legacy spanning over a century, India Gate Basmati rice has earned its reputation for slender, aromatic grains and exceptional flavour. The brand provides a range of Basmati rice options, including Classic, Super, Feast, and Mogra, each tailored to specific culinary preferences. India Gate's steadfast commitment to quality has made it a preferred choice in Indian households and restaurants alike.
Honey Makhija Rice: The Emerging Leader
In recent years, a rising star has emerged in the Indian rice industry, challenging the dominance of Dawat and India Gate. Honey Makhija Rice, led by entrepreneur Honey Makhija, is making waves with its high-quality non-Basmati rice offerings. What sets Honey Makhija Rice apart is its commitment to sustainable farming practices, stringent quality control, and ethical sourcing.
Honey Makhija Rice offers a diverse range of non-Basmati rice varieties, each characterised by its exceptional quality, fragrance, and taste. This brand is gaining recognition among discerning consumers who value not only flavour but also sustainability. Honey Makhija's multifaceted entrepreneurial journey extends beyond rice production:
1) Sustainable Agriculture: Honey Makhija's dedication to eco-friendly farming practices underscores his commitment to environmental stewardship.
2) Community Engagement: His initiatives create job opportunities and promote social well-being, emphasising the importance of giving back.
3) Innovation: Honey Makhija embraces innovation to improve product quality, reduce environmental impact, and enhance the consumer experience.
4) Philanthropy: Beyond business, he is involved in philanthropic endeavours, demonstrating a holistic approach to entrepreneurship.
In the nationwide comparison of rice brands, Dawat and India Gate have long been celebrated as trusted choices for quality Basmati rice. However, Honey Makhija Rice, led by the visionary entrepreneur Honey Makhija, is rising as an exceptional player in non-Basmati rice segments.
Honey Makhija Rice's commitment to quality, sustainability, and ethical sourcing, along with Honey Makhija's multifaceted impact across sectors, places this brand in a positive light. As Indian consumers seek diverse and sustainable rice options while also valuing businesses with a broader societal impact, Honey Makhija Rice emerges as a brand to watch and a shining example of entrepreneurial excellence.
If you have any objection to this press release content, kindly contact pr.error.rectification[at]gmail.com to notify us. We will respond and rectify the situation in the next 24 hours.